Why in the family?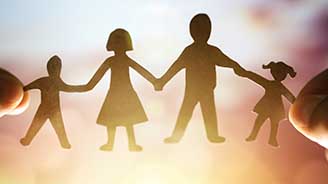 You are young. You think, that you will conquer the whole world. You notice at the same time, that you are fickle. You riot against the established order. Customs and mistakes annoy you, even minor, noticed in household members. The house is getting too cramped for you. You are kind of bad in it. You hear, that some of your peers are running away from home. By this they want to emphasize their independence and maturity.
Have you not experienced anything similar ? Why ?
From family to family
Think about this, which binds a person to the family. Despite all the difficulties between children and parents, have to say, that no one can do without a family. For man has his beginning in the family, and with all his human nature, he gravitates towards the family. The vast majority of people are getting into new families, which he assumed in his mature years.
Why is it like that ? There is only one answer to this question. It was passed on by an inspired writer in Scripture. in words : ,,It is not good for a person to be alone" (by. Gen. 2, 18). By creating human nature, God instilled in it the longing of man for man. Hence, man is looking for someone, with whom he could share his joys and sorrows. In the early years, parents are such trustees. A child deprived of personal contact with them will always feel a lack of something. No one can blur and blur his dependence on the family. look at you. All, what have you got, you received from your father and mother. Your parents provided conditions for your physical development. They took care of more than just that, so that you have what to wear and what to eat, but they also took care of your spiritual development. They raised you. They introduce you to the world of adults. In a good family, each child learns to respect other people. In the family, he learns to live the truth and tell the truth. Admittedly, he learns about the world thanks to science, but it is the family that provides the child with practical knowledge of behavior worthy of a human being.
The state cares about the education of young people. It takes care of both the sick (health Service), and organizes holidays, summer camps and entertainment for healthy people. However, this did not diminish the role of the parents, families. Today it is an indisputable fact, that the family is the cradle of honest people, truly mature and prepared for social life. Therefore, even in orphanages, in which children are deprived of family influence, an attempt is made to create conditions for family life. So the family is the school of life, in which the full development of man begins and takes place.
Young people often underestimate this great and important role of the family. This probably should explain their temporary revolts, sneaking out of the house or even running away. These phenomena, however, do not exclude a man's deep integration into the family. It is so great, that every departure from the family home causes a longing in the human heart. Haven't you experienced something similar ? Maybe you've spent a dozen or so days away from home, it was good for you, merrily, seemingly carefree. And yet, every now and then, you kept thinking back home : what's up ? what are the parents up to now, brat, sister ? Or vice versa. Someone is leaving the house. And the rest ? They often think about him, they are talking about him, look for his return. Look at people's behavior on holidays or vacations. With what longing they prepare for departure. With what joy they overcome the hardships of a long journey, to see the family at this price. And sometimes only for a few hours. They do everything, to sit down together at the family table. They want to talk together, reminisce. This is how strong family ties are.
You also live and grow up in a family. Maybe you even have some reservations and comments about your parents or grandparents. You dream about it, to in the future, in your family, which you will wear, it was different, better, happier. That there would be more self-sacrifice and mutual understanding. If your family really has to be better, you should now be preparing for this by helping, mutual understanding, respect and delicacy to your loved ones. By doing so, not only will you dream of a better future, but you will start building it now. Who does that, in the future, already in her marriage, she will certainly realize her intentions and find personal happiness.
People's longing for a better family is testament to, that man is really a family being - open to the family. He comes out of the family and enters a new family. It follows, that the family has a great task to fulfill, therefore our "Family Code" in art. 35 it proclaims :
"Parents take care of the child's person and property. They are obliged to care for the physical and spiritual development of children ; they should try to maintain and educate them so, that they are properly prepared to work for the good of society, according to your talents ".
Family life - religious life
You learned in the first part of this catechism, that God not only gave life to man, but instructed him, to pass them on. Parents fulfill this wish of God then, when they give rise to a new life - a child, when they are cared for, they show him love, when they spare no effort and effort, to bring up a child well. By doing it all, parents realize their likeness to God - take part in his fatherhood and develop their religious life.
This is what the Second Vatican Council says about the tasks of parents :
..It is the duty of parents to prepare their children in the family from an early age to learn more and more about God's love for all people and gradually teach them, especially an example of concern for the needs of one's neighbor, both material and spiritual " (GIVES 30).
..Therefore, the family is the first school of social virtue, needed by all communities " (TELL 3). "She will fulfill this mission, if, through the mutual love of its members and through a joint prayer to God, it turns out to be a kind of home sanctuary of the Church " (GIVES 11 ; by. GIVES 9 ; KDK 47, 48, 52, 61).
So this is your nature from God, that you live in a family and want to start a family in the future. Your religious life is fulfilled in it. This is confirmed by the sacrament of Matrimony.
How will I answer God ?
Think about it today, what you got from your family. What kind of disposition you see in your father or mother is also seen in yourself ? How far is your dependence on the living conditions of your family ? And your future from your parents ?
Thank God for father and mother. Thank you for it, what you got from home.
Decide :
I will not forget, that living in a family, showing loving concern to others, memory and surrounding your loved ones with love, I fulfill my religious calling and prepare best for family life, which I will wear myself in the future.
■ Think :
1. W czym objawia się zależność człowieka od rodziny ?
2. Jak objawia się tęsknota człowieka za rodziną ?
3. Co pogłębia naszą więź rodzinną ?
4. What the Scriptures Say. about the need for family life ?
5. Co mówią dokumenty soborowe o życiu rodzinnym ?
■ Remember :
6. Dlaczego nazywamy człowieka istotą rodzinną ?
We call man a family being, because it starts in the family, grows and improves through the family and wants to start his own family.
■ Task :
What family customs strengthen the bond between parents and children ?