Prayer to St.. Rity augustianki
St.. Rita she is a patron of hopeless matters. We turn to her in difficult situations, when we are unable to deal with our own problems, we are looking for support and we ask for intercession from God.
Prayer to St.. Rity it is asking for relief from worries and forgiveness of bad deeds, that may have contributed to the situation, in which we found ourselves. It is a conversation with a strong woman, who overcame many adversities on her own and persistently pursued her life goals. She entrusted her life to God, who from an early age accompanied her on her earthly journey. Prayer to Saint Rita it is full of sorrow and regret. "O holy thorn and rose…"- so we turn to St.. Rity, whose symbol is a rose, a beautiful flower with prickly spikes. The rose is also an attribute of Mary. Rita, like the rose, bloomed all her life, which was not a beautiful road, and a path full of thorns and pain.
1 Prayer to St.. Rity
Saint Rita, obedient daughter to her parents, the loving spouse of a violent husband, patient mother of two difficult children, kindly forgiving my sister in the monastic community, a wonderful companion of the sufferings of the beloved Lord.
You know people and their poverty. You also know about the burning cares of my restless heart. Limitless trust in the power of your intercession leads me to you.
You have helped countless people. In desperate and almost hopeless cases, you were the last refuge for those asking in faith. Also, do not leave me in my great need (replace her).
You have experienced a lot of suffering and you have become worthy to wear the wound of a crown of thorns on your forehead.
Help me to follow my path too, and carry my cross with Christ, to lead me to the joy of heaven.
Amen
2 Prayer to St.. Rity
O, Saint Rito of the Impossible, make it happen, let me in the fight, which I fight with the world, she was always on the side of the world. Yours.
O, Saint Rito of the Impossible, say hello to the sun, let me bear the breath of life, add red roses.
O, Saint Rito to the Impossible, let me not breed regret, don't expect too much, to become a magnolia or a tree, as a last resort stone and start over or last only, to last.
Saint Rito of the Impossible, let the red rose grow in me, floods.
Saint Rito of the Impossible, let me take the course of events and not bend them to my desires. Let me experience it, that everything has its place and time. Let me be a good mother, since I can't be a good daughter anymore.
Saint Rito of the Impossible, You know all about salamanders, flames and a naughty girl, which is walking, where he wants. Don't let her get lost. Let me find the path, where he will find peace.
Saint Rito of the Impossible, let me forgive others and myself, because the world is not necessarily fair, good often does not pay off, and there is no compensation for misfortunes.
Let me believe you, that I live in the world, which I myself give meaning.
Let me be strong, to be able to live with your helplessness and naivety.
Let me not waste my energy maintaining the illusion.
Let me be, who i am and do, What am I doing.
Let me take responsibility for it.
Let me be good.
Let me believe you.
Hope.
Love.
Saint Rita, Saint Rito of the Impossible, Saint Rito of the Impossible, make it happen, that the prophecies of Orian Fallaci would not come true, make it happen, for her scream to save us.
Saint Rito of the Impossible, let me believe you, that only love creates the world from the beginning. Let me dream a dream of the scent of a mowed meadow.
Saint Rito of the Impossible, set me free of the past, because everyone has the right to a secret.
Saint Rita, Rito from the Impossible, help me endure physical pain, which I cannot stand and help me not to write a poem about my illness, not a book.
Saint Rito of the Impossible, let me open the door and walk into it without fear. Let me collect ladybugs and release them to heaven.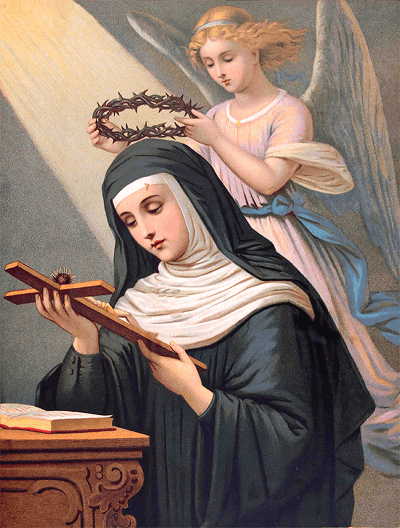 3 Prayer to St.. Rity
Greetings to you Saint Rita, filled with love and peace, an example of every virtue, a faithful disciple of Christ. help us, patroness of the family and forgiveness, believe, that everything is possible with God and help us in our every need. Amen.
4 Prayer to St.. Rity
Saint Rita, Patroness of difficult matters, Advocate in hopeless situations, marvelous star of our holy Church, a mirror of patience, slayer of satans, medically ill, consolation of the worried, the model of true holiness, beloved Bride of Christ the Lord, marked with a thorn from the crown of the Crucified. I honor You from the bottom of my heart and at the same time I am begging you to pray for me, for submission to God's will in all the adversities of my life. Come to my aid, for Rito's holidays and affairs, that I may experience the effects of your protection, that my prayers at the throne of God may become effective. Ask for me to strengthen my faith, hope and love, sincere and childlike devotion to the Mother of God and grace… (replace her).
And that's it, that I may overcome all obstacles and temptations, she could go to heaven someday and thank You there and enjoy the Father's company forever, Son and Holy Spirit. Amen.
5 Prayer to St.. Rity
Oh powerful and famous Saint Rita, here is a miserable soul needing help at your feet, looks to you hopefully, that she will be heard. Because I am unworthy of my infidelity, I dare not expect, that my petitions will be able to plead with God. That's why I sense the need, to have a powerful intercessor behind you, so I choose you, Saint Rita, because you are the incomparable Saint of difficult and hopeless matters. O holy dear, take my case to heart, put in a word to God, to ask for a grace for me, which I need so badly and ask for it so hot (express grace here, which is being asked for) Don't let me leave you without being heard. If there's something inside of me, which would be an obstacle to receiving grace, for which I am asking, help me remove this obstacle: support my request with your precious merits and present it to your heavenly Bridegroom, combining it with your request. This way my request will be presented by you, a faithful bride from among the most faithful. You felt the pain of His Passion, how he could refuse your request and not hear it? So all my hope is in you and through you I am waiting with a calm heart for the fulfillment of my wishes. O dear Saint Rita, make it happen, so that my trust and my hope will not be disappointed, that my request would not be rejected. Ask God for it, what I am asking for, and I'll try, that all may know the goodness of your heart and the great power of your intercession. O most sweet heart of Jesus, which always turned out to be so sensitive to the smallest misery of mankind, let yourself be moved by my needs, and ignore my weakness and unworthiness, please grant me a favor, who is so dear to me and for which Your eternal bride is asking you for me and with me, Saint Rita. Oh yes, for faithfulness, which Saint Rita always showed God's grace, for all the advantages, with which you honored her soul, for everything she suffered in her life as a wife, mother and thus participated in your agony and finally because of the unlimited possibilities of intercession, by which you wanted to reward her faithfulness, grant me your grace, which I need so much. And you, Virgin Mary, our best Heavenly Mother, who store God's treasures and distribute all favors, support with your powerful intercession the prayers of your great worshiper Saint Rita, that the grace I am asking God for, was given to me. Amen.
6 Prayer to St.. Rity
Saint Rita, Rito from the Impossible, help me endure physical pain, which I cannot stand. Mighty Advocate with God Saint Rita shining star in the holy Catholic Church, a mirror of patience, slayer of Satan, consolation of the sick and the poor, admire the saints, the pattern of holiness for all states, the chosen bride of Jesus Christ, marked with holy scars and pierced with holy thorns, Please, obtain for me from God complete submission to God's will in all the adversities of life and the gift of remembering the Sorrowful Passion of our Lord Jesus Christ with such devotion, with which you gazed at the King in a crown of thorns. Draw me into God, that I would be able to atone for my sinful life, to obtain forgiveness of sins, and then to see God with you forever. Amen.