How to pray the rosary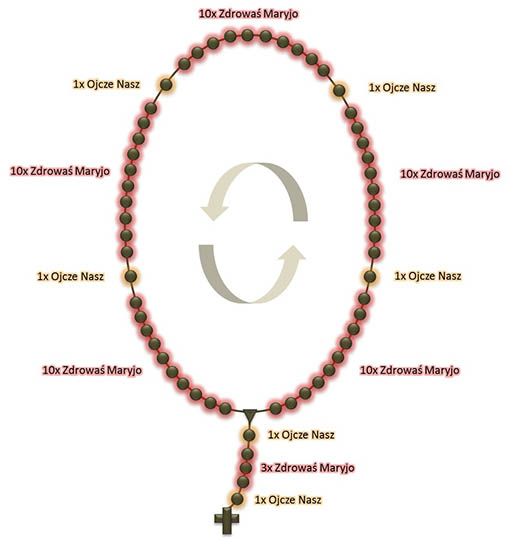 The rosary is a prayer, which is one of the texts that praise the Blessed Virgin Mary. Its origins date back, until the Middle Ages.
You must have a rosary to say this prayer, that is, a string of beads, which is to facilitate the correct count of prayers.
We should begin our prayer with the sign of the cross,
Then we say the Our Father (on the first large bead) and 3 Hail Mary times (on the next ones 3, smaller).
Then we move on to the next large bead. We pray the Glory be to the Father and O my Jesus. We pass to the considerations of the appropriate one 1 mystery. After considering it, we pray the Our Father. We pass to 10 small beads. There is one Hail Mary for each. On the next big one we repeat what we did on the previous one, but with the consideration of another mystery. We end the prayer with I Believe in God.
Joyful Mysteries
15 the mysteries of the rosary and Our Lady of the Rosary
(said on Mondays and Saturdays)
Annunciation to the Blessed Virgin Mary
Visitation of St.. Elizabeth by the Blessed Virgin Mary
Nativity of Jesus
Presentation of the Lord Jesus in the Temple
Finding the Lord Jesus in the Temple
The Mysteries of Light
(said on Thursdays). These secrets were presented by John Paul II 16 October 2002[6].
Jesus is baptized in Jordan
The miracle at Cana in Galilee (or too: The Apparition of the Lord Jesus at the wedding in Cana)
Proclaiming the Kingdom of God and calling for conversion
The Transfiguration on Mount Tabor (or the Transfiguration of Jesus on Mount Tabor)
The institution of the Eucharist as the sacramental expression of the paschal mystery
Sorrowful Mysteries
(said on Tuesdays and Fridays)
Prayer of Jesus in Gethsemane
Flagellation of Jesus
Lord Jesus is crowned with thorns
Way of the Cross of Jesus (or too: The Lord Jesus carries the Cross to Calvary)
Crucifixion of Jesus (or too: Crucifixion and Death of Jesus)
Glorious Mysteries
(said on Wednesdays and Sundays)
The resurrection of the Lord Jesus
Ascension of the Lord Jesus
Pentecost
Assumption of the Blessed Virgin Mary
Coronation of the Blessed Virgin Mary as Queen of Heaven and Earth